Motorbiking in Andalusia may not be the first thing you think of, but it is a fantastic experience. With its diverse landscapes, beautiful roads and sunny climate, Andalusia is a popular destination for motorbike enthusiasts.
More and more often, we encounter motorcyclists. That is not surprising because the campo, as they call the countryside in Spain, has many beautiful paths and roads to make wonderful motorcycle rides. From Finca Las Nuevas you can also make great motorbike rides and enjoy a wonderful motorbiking holiday.

Trans Euro Trail
A frequently used route for motorbiking is TET. If you had asked us a month ago if we had ever heard of TET, Trans Euro Trail, the answer would be no. But now we see it more and more often. And before we knew it, we'd already ridden a trail of it.
For those who don't know TET yet; the Trans Euro Trail (TET) is a long-distance off-road trail network stretching across Europe. It is specially designed for adventurous motorcyclists and off-road enthusiasts.
TET consists of a network of interconnected dirt roads, paths and tracks that cross several countries in Europe. It offers motorcyclists the opportunity to explore diverse landscapes, cultures and historical sites during a motorbiking holiday.
The TET was created by a group of motorcycle enthusiasts who wanted to create a challenging and scenic off-road route that could be ridden on lightweight dual-sport motorbikes.
The Trans Euro Trail is divided into several sections, each covering a specific region or country. There is also a route in Andalusia. Motorcyclists can plan to ride a specific part or combine several parts to make longer rides.
The route is expanded every time with new routes. For more info and to download the route, click here
A few weeks ago we ran into a motorcyclist at the Ermita de las Cruces, near Cártama and Álora, which is only two kilometres from our house. He drove a route of the TET and was on his way to Almogía. That was the first time we heard of TET.

Motorbike-friendly

holiday homes

for a beautiful motorbiking holiday in Andalusia
At the moment we at Finca Las Nuevas have guests from Great Britain who are motorbiking in Spain.
Our holiday homes for 1 to 5 people are fully equipped and are therefore ideal for motorcyclists. There is a washing machine and pool towels can be borrowed for the pool or a day at the beach.
The guests are amazed by the variety of roads, both paved and unpaved and the beautiful landscapes. In one day you can experience a multitude of landscapes and nature and of course, you can combine this with a taste of Spanish culture.
Motorbiking in Andalusia without your own motorbike
Not everyone has the luxury of owning a motorbike. That is not a problem in Andalusia. In our region, several companies offer adventurous tours for both the novice and the experienced off-road rider. This way everyone can enjoy motorbiking in Andalusia.
A few weeks ago a guest, an experienced motocross rider, made a great day trip in the Málaga area. He came home very excited. That was at Toro trail
Near our mountain, a very successful English racing driver Graham Jarvis has his own motorbike touring company. You can do training for beginners here or book Enduro rides.
If you don't have any off-road experience yet, Enduropark Andalusia offers very nice options on brand-new BMW motorbikes. Robert came home with a smile from ear to ear after doing a two-day training here. For more information
Beautiful motor trails in Andalusia
There are so many beautiful motorbiking routes to think of during a holiday at Finca Las Nuevas. To get an idea, here are some examples.
Motorbike route to El Torcal
If you are looking for an adventurous off-road route, then you should definitely drive inland to El Torcal. Via the dirt roads through the campo, dry riverbeds and the occasional steep climb, you drive to the special rock formations of El Torcal.
You can drive back to Finca Las Nuevas via a few hamlets or via another dirt road. You will also pass a cork oak grove.
But you can also continue on the paved road towards Almogía and then drive up again via a winding mountain road via Cártama.
Motorbike ride to Ronda and back via an impressive mountain road
This route goes via the paved road but is certainly no less beautiful. you can make a short stop in Setenil de las Bodegas, one of the most beautiful villages in Spain. You can read more about this here.
Ronda is a romantic city that has captured the imagination for centuries. In our ebook, we have a walk through this cosy town, which goes past all the highlights.
Ronda is high up, so you soon drive on a beautiful mountain road if you drive south, towards the coast. Set your navigation to Genalguacil and you will enjoy the beautiful mountains, sweet chestnut trees and impressive views. The good road (A 369) winds all the way down to the resort of Estepona.
From there you can follow the highway (A7), not so nice, but it is not that long, and then take the exit to Ojén at Marbella. Via a beautiful mountain road (A355) you drive over the Sierra de las Nieves to drive back to Finca Las Nuevas via Coín and Álora.
Motorbike tour along Caminito del Rey
This tour starts on dirt roads and continues on tarmac mountain roads. From Finca Las Nuevas you drive past Ermita de las Cruces and then via dirt roads with beautiful views to the el Santo statue in Pizarra. You have a beautiful view of the Guadalhorce Valley and the Sierra de las Nieves from this place.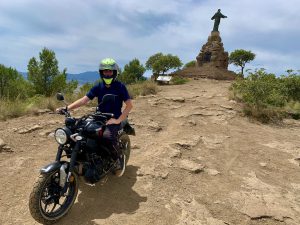 You descend to the valley to drive up again via a paved road (A343) on your way to the Caminito del Rey and the reservoirs of Ardales. The road winds along the mountains and takes you through a beautiful nature park to the lakes. ere you have a beautiful view of the Caminito del Rey suspension bridge. There are some nice restaurants here for lunch or a drink.
You can follow the road along the lakes and continue onto the A357 towards Málaga. At Ardales you can drive up a nice winding road, again towards the Caminito del Rey. You drive the same route for a short distance, but turn off in El Chorro to drive back to Finca Las Nuevas via another mountain road. With a bit of luck, you will cross a floated road.