Torremolinos probably evokes a frightening image of large hotel complexes and overcrowded beaches for many. Yet there are also a few beautiful places to be found.
Torremolinos was not particularly the place on our wish list. We don't like the crowds and we certainly don't have to drink a pint in an Irish bar when we are abroad. Let alone lying on a beach next to other compatriots.
But if you live so close to the costa and still want to go to the sea, it is inevitable you go there sometimes. And if you come a little more often, you will also get to know the neighbourhood a little better. And we must admit that there are quite a few places that surprised us.
The botanical garden of Torremolinos
To start right away with the highlight. The botanical garden Molino de Inca is absolutely recommended. We lived in Asia for a few years before moving to Spain. Lovely between the palm trees and tropical plants. Perhaps that is why we enjoyed a tour of this botanical garden so much.
The garden is not very big. The entrance is in an old watermill, where grain used to be ground. The ingenious system for using water to grind the grain is beautiful to see. There are some nice models of the water mill. And you can also take a look in the cave where there is a source and the reason why Torremolinos was created.
In the garden are aviaries with colourful birds and large owls and there is also a Japanese garden. Children can enjoy themselves in the labyrinth.

The white village of Torremolinos
When you think of Torremolinos, you probably don't think of narrow streets that go up steeply with houses on either side with colourful flower pots on the walls, do you? The old village is not very big, but it is nice to walk through if you still want to take a souvenir, even if it is for your closet with the wrong souvenirs.
If you walk through Torremolinos's shopping street, Calle San Miguel, you will automatically come down a staircase. Here you will find small shops with pottery, souvenirs and much more. You can also see a remnant of a mill, from which Torremolinos owes its name (molinos are mills, and torre is a tower).
If you want to have lunch or dinner in a nice spot, we can definitely recommend Restaurant Ibiza. The owners turn the dinner into a real party. There is great attention to detail in both the food and the entourage.

Nice beach clubs in Torremolinos
When you think of Torremolinos, you think of the beach, right? We are not going to say that you will find nice idyllic bays with quiet beaches here, but if you want to get the beach, sea and holiday feeling, then you are in the right place.
When guests ask us if we know a nice beach, we always ask what the intention is or what they have in mind. For some, this is a perfect beach for others not. So you can decide for yourself.
The beach of Torremolinos is very large, I think about 8 km long and has some subdivisions. We always advise guests of Finca Las Nuevas to take the exit at Parador de Golf near the shopping mall Plaza Mayor. This is the nearest beach from Finca Las Nuevas, about a forty-minute drive away.
The beach closest to Málaga is a somewhat narrower sandy beach below the departure route of the planes. So be prepared for some noise. This is a nudist beach, but you are welcome to lie in your swimsuit.
Sunbathing with the Spanish.
A little more to the right of this, the beach of Los Alamos begins. We think this is a nice beach. With a bit of luck, you can park your car directly opposite the beach for 1 or 2 euros per day. On this beach, you are not yet in the British pint zone, but you will be around cosy Spanish families and groups of friends. So you definitely have the feeling that you are in Spain. There are a few spots with palm trees, so you can lie on the grass under the trees in the shade. Otherwise, you can lay out your towel on the sand or rent a bed with an umbrella at one of the chirinquitos on the beach.
Are you looking for a 'stylish responsible beach bar' then La Palapa Beach Jazba is very nice. Here you can lie under a nice parasol, you can hear nice music and there is a cosy restaurant so that you can imagine yourself in Ibiza or a tropical resort.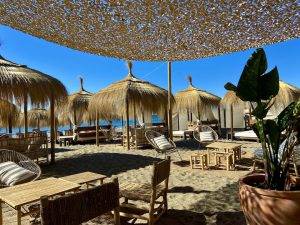 If you walk further west, at some point the beach of La Carihuela begins. Here I think all your prejudices about Torremolinos are confirmed.
Nice spot away from the crowds
How nice is it to leave the madness behind after a day at the beach or in the hustle and bustle and enjoy the sunset and the singing birds on your terrace? Our holiday homes at Finca Las Nuevas are spacious and equipped with all comforts. Located 40 minutes from Torremolinos, the airport and Málaga. A fabulous spot and the perfect starting point to discover the area.